Fun and addictive - an active game that the children want to play over and over again!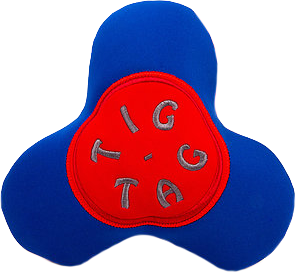 Why we made
Tig-Tag
How often does one letter of the alphabet start an argument?! 2012 saw the families of two sisters, Suzanne and Louise, holidaying in the Lake District. Playing with the locals, their children found that what they were calling Tag was known there as Tig!
To avoid any bickering, Suzanne and Louise told the children, "Just play Tig-Tag!" Unfortunately, though, the way the game played out meant other arguments were to come… The game was not only too rough for some but also quite unfair: the younger kids found it hard to catch their older friends…
Tig-Tag is:
Soft-to-the-touch
Easy-to-hold
Washable
Effortlessly-thrown
Set Game Rules
Decide on the rules, playing area and is there a "safe zone?"
Tag someone
The chaser throws the Tig-Tag, if it gets you,
You're it!
Have Fun!
The fun never stops with Tig-Tag!
testimonials
What Everyone is Saying
Don't take our word for how much fun it is, read the testimonials.
Our family played Tig-Tag on holiday in Cornwall. Fantastic toy, I have two boys aged 13 ,9 and a 11 year old girl, and it was a game that we could all play together as it is suited for all ages. Really easy to throw and no fear of it hurting anyone or damaging anything.  Definitely a toy to keep in the caravan for nice days away. It's really light and easy to store away too.
I tested your Tig-Tag in various ways. The children have really enjoyed using it so thank you for allowing us to trial it.   For larger groups, after a couple of minutes of playing a game of tag, the children actually wanted to be tagged and ended up standing next to the person with the Tig-Tag shouting 'Throw it at me! Throw it at me!'
The Tig-Tag really works superbly for smaller groups of children and they are able to play quite independently with it. The feedback has been very positive and the children have been asking if they can use it again.
Awards We Have Won